Posted by Peggy Riley on 4/26/2018
Del Mar News April 4, 2018
Last week we were honored to host our area's elected Congressman, Jared Huffman. Many of our 8
th
grade students directly shared the legislation they had written during trimester 2 in their history class. Mr. Huffman made himself available to hear more directly from our students. I was incredibly proud of our students; they were thoughtful and articulate in asking challenging questions of him.
Open House Invite:
Del Mar Open House is Thursday, April 19
th
from 6:30-8:00. I look forward to seeing you and celebrating your students' work.
Reminder: Please join me tomorrow morning from 8:30-9:30 for a Principal's chat in our library. I will be reviewing our staff's work around grading practices and want to hear from parents about our reports cards and student led conferences.
I hope you all enjoy your time off during Spring break!
Please come to check lost and found. It will all be donated at the end of the day tomorrow, April 5th.
8th grade class picture
is available to order,
log in here
.
Its not too late to donate! Families of 2018 graduates please consider a donation in the amount of $170 to help pay for the following:
-graduate party including dinner and entertainment
-teacher appreciation luncheon
-digital copy of class slide show
-cable car transportation used for the graduate parade to downtown Tiburon
-Six Flags entrance fee, transportation to and from plus lunch
If you cannot make the $170 commitment but would like to contribute to this fabulous event for your child, please stop by the office and fill out the donation form. Any amount is greatly appreciated.
Del Mar Middle School students and the PTA present Mary Poppins, Jr. -
Tickets on sale now! Click here to purchase. Come support your fellow classmates. Paper tickets will be available in the office starting April 16th.



PTA Executive Board Slate
The 2018 Nominating Committee has completed its work to develop a slate of nominees for the 2018-2019 Executive Board. Congratulations to the following individuals!
District Co-Executive Vice Presidents: Angela Chang and Amanda Rickel
District Treasurer: Amy Kaufman
District Auditor: Charito Mittleman
Reed Site Chair: Carli Hamilton
Bel Aire Site Chair: Jaqueline Jaffee
Del Mar Site Chair: Tracy Cunningham
The slate will be presented to the PTA Membership for election into office at the District PTA Meeting on May 16th.
Last but not least, many thanks to Tina Borden, Stacey Crawford, Jessica Malek-Madani, Jen Riley (chair), and Jenny Sims for their service on the Nominating Committee.
Foundation News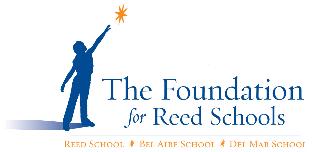 HELP US WRAP UP THE FAMILY GIVING CAMPAIGN
AND MEET OUR $2 MILLION COMMITMENT TO RUSD
********
SPRING BRINGS OUR ANNUAL EVENTS
FASHION SHOW & BOUTIQUE
Friday, May 18th
&
GATSBY GALA & AUCTION!
Saturday, May 19th
G E T I N V O L V E D !
The Foundation is actively seeking donations to this year's LIVE AUCTION. The auction is a much anticipated part of the Regatta and essential to our fundraising effort.
Can you spare a week at your fabulous vacation home or one game from your season's tickets?
If so, we would LOVE to hear from you!
All ideas and contributions are welcome!


P L E A S E J O I N U S T O D A Y !